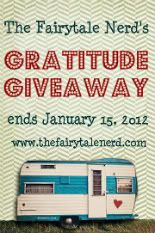 The Fairytale Nerd
is hosting a giveaway to express gratitude for all the blog's followers. Seeing as how it's the holiday season, I think we could all use a little extra $$$ to spoil ourselves or to buy books as gifts for our loved ones. All I can think about right now is taking a good book to the beach on a nice, sunny day and just letting myself relax and de-stress after a nightmarish year of postgrad study. I'm sure we could all think of some reason we deserved to be spoiled, so I'd suggest that you not waste this opportunity and get on over
THERE
right now to enter this giveaway.
Oh yes!
What can you win?
Well, here are the deets:
There will be TWO winners.
Each winner will be able to CHOOSE a YOUNG ADULT book UNDER US$12 from BOOK DEPOSITORY.
It can even be a pre-order as long as it does not exceed US$12.
Giveaway Rules:
Open to persons 13 years old or older.
The giveaway is INTERNATIONAL, or as long as Book Depository delivers books to where you live for free.
Contest ends on January 15, 2012.